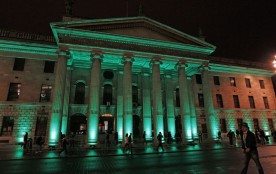 This year's St. Patrick's Festival takes place across Dublin from March 16th – 19th.
Festival highlights include:
•    'Greening the City' on March 16th, where some of Dublin's iconic buildings such as the General Post Office (GPO) and Trinity College will be turned green for the duration of the festival.
•    On St. Patrick's Day itself, there will be the famous 'St. Patrick's Festival parade', performing its usual energetic routine through the streets of the capital. 'Ireland You Are… ' is the theme for this year's parade, where bands from Ireland will be joined by bands from countries such as USA, France and the Bahamas.
•    On March 18th, there is a 'Festival Treasure Hunt', which is guaranteed fun for all the family, with prizes given out to the three fastest teams to complete the hunt.
•    'In the footsteps of St. Patrick- Walking Tour' on March 19th is hosted by professional tour guides, where participants will learn about the legend of Ireland's patron saint and what Dublin was really like during that time.
To see the full list of events, please visit http://www.stpatricksfestival.ie/
Story Source: St. Patrick's Festival
Photo Source: Ireland's Content Pool