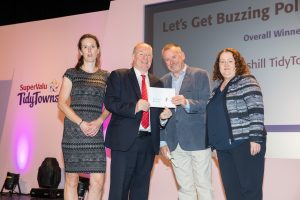 TidyTowns Awards ceremonies – National and Regional
In September each year, the main winners of the National SuperValu TidyTowns competition and the Special Awards are announced at the annual TidyTowns Awards ceremony.
The National, Regional and County award winners are announced as well as the Special Awards. Due to time constraints, only the top awards are presented on stage. The Minister for Rural and Community Development and the Managing Director of SuperValu, our main sponsor, make the presentations.
The venue can accommodate approximately 1000 people, therefore only a representation of award-winning SuperValu TidyTowns committees are invited to attend.  In addition, sponsors, representatives from each Local Authority and the TidyTowns adjudicators are invited. It is a great social occasion and an opportunity to meet with other committees from across the country.
The RTÉ Nationwide team record the event and a special programme is broadcast that evening. The Regional Award ceremonies are held in October/November and allow groups to meet more locally to celebrate their achievements. These ceremonies include the Endeavour Award winners. The ceremonies also allow for the presentation of all the prizes, medals and certificates announced at the National ceremony.
A government Minister and the sponsors attend to make the presentations. Photographers capture the presentations and the photos are circulated to all the local newspapers. Fáilte Ireland have traditionally hosted these awards in conjunction with the TidyTowns Unit of the Department.
There are over 200 prizes given out each year, with more than €200,000 of the total prize fund of €250,000 awarded under the main competition. The rest is awarded in special prizes outside the main competition. For further details, see the Special Awards section.
All main prizes are based on the scores achieved by entrants in the competition as follows –
Endeavour Awards for the biggest improvement by an entrant in each county from the previous year.
County Awards for the top three entrants in each county.
Regional Awards for the top-scoring entrant in each region.
Gold, Silver and Bronze Medals for entrants with scores that fall within a set range from that year's winning score.
Category Awards for the highest scoring entrants in the Village, Small Town, Large Town and Large Urban Centre categories.
Ireland's Tidiest Town Award for the highest scoring entrant in the whole competition.
There are also separate awards sections for Island entrants and Gaeltacht entrants.