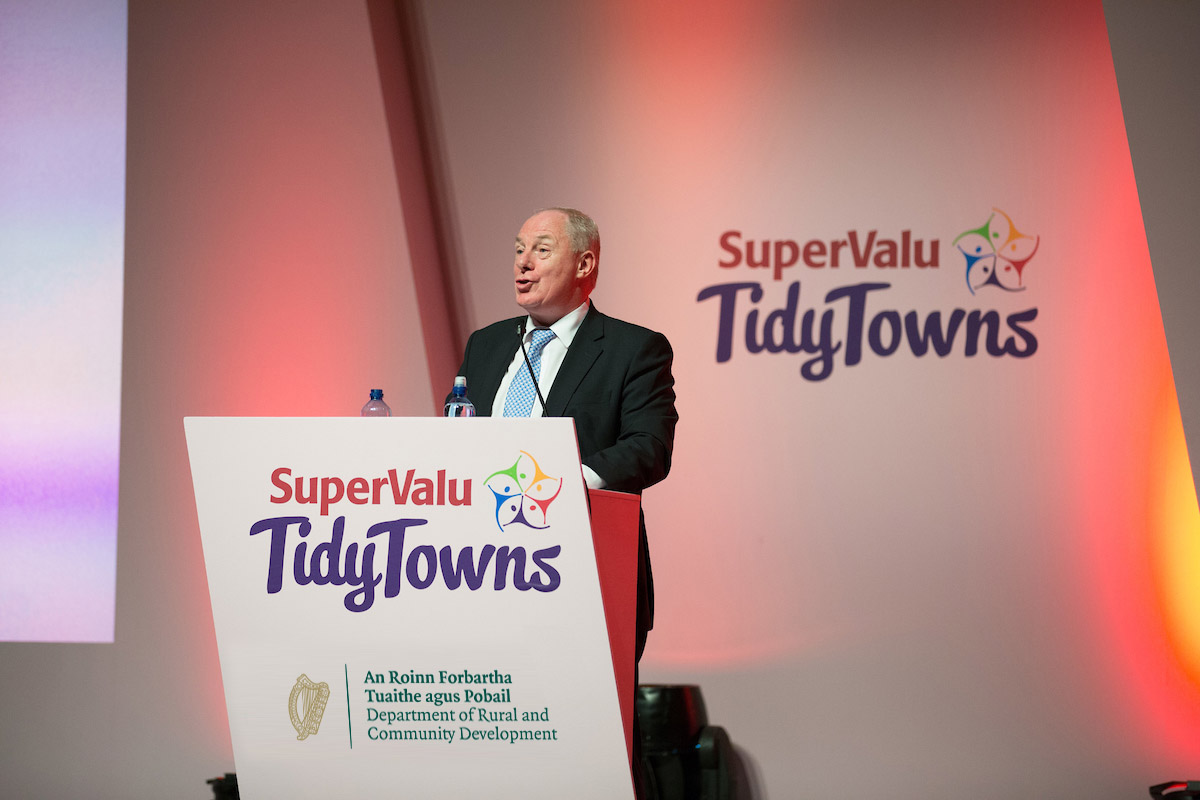 I am delighted to be in the position, once again, to launch the annual SuperValu TidyTowns competition. 2018 is a special year for the competition as it marks the 60th anniversary of what has been a very successful Government initiative in partnership with our sponsors – SuperValu.
As part of the of the 60th anniversary celebrations I announced a once off grant scheme of between €1,000 and €4,000 for committees in November 2017. The purpose of the scheme was to recognise, in a small way, all the hard work and dedication of the volunteers who have worked tirelessly over the years to improve their towns, villages and community life. I am always inspired by your generosity, your enthusiasm, your dedication and your sheer effort. I am delighted that out of the 974 committees who were eligible to apply for the grant that 901 sent in an application – that is 93% of committees – which is a fantastic response. I hope that it will help in the work carried out by you and will help to mark the occasion in an appropriate manner.
Also to mark the 60th anniversary of the competition, officials in my Department undertook a consultation process to which TidyTowns committees around the country were invited in order to revise and update the competition. The TidyTowns Unit in my Department received some excellent feedback and will look to implement as many good suggestions as possible in 2018 and 2019. As you go through the application form, you will see that some amendments have been made to the category descriptions for 2018, I hope that the revised descriptions will provide additional clarity for you and your committees. I would like to thank all of you who contributed to the consultation process as we work together to keep the competition vibrant, interesting and relevant.
The SuperValu TidyTowns competition has been, from its beginning, concerned with fostering community effort and local pride. The competition was originally devised by Fáilte Ireland in 1958, emerging from a national spring clean and a national spring festival called An Tostal which translated as "Ireland at Home". This festival was intended to encourage more civic spirit to match national pride, to give every city, town and village an opportunity to participate in its own special way and to be a feature of Irish life every year. All these goals still feature strongly in the competition today and really are the backbone of the competition.
Interest in the SuperValu TidyTowns competition continues to grow every year. Since its inception, the competition has grown from 52 entrants in 1958 to 870 entrants across 26 counties in 2017. Each year standards continue to rise and each year committees continue to improve with new projects and new initiatives. I am always interested to see how innovative TidyTowns committees are. Each small step you take with your TidyTowns projects builds on the work you have previously carried out. It can take time to see results – sometimes years – but your persistence leads to fantastic results in towns and villages all over the country.
I am delighted that my Department continues to work closely with the competition's main sponsor, SuperValu, to ensure that the competition continues to go from strength to strength. SuperValu has been integral to sustaining and developing the competition, not only through their financial support, but also through the local support provided to TidyTowns groups by their network of retailers. I would like to thank Martin Kelleher, Managing Director of SuperValu and his team, most sincerely, for the enthusiasm and energy they bring to this competition and for their ongoing assistance in promoting, developing and growing, the SuperValu TidyTowns initiative.
Once again this year, in addition to the main competition, there are 13 Special Award categories that you can enter. These special awards are an intrinsic and additional element of the SuperValu TidyTowns competition and I would like to encourage all entrants to the main competition to consider also entering some, if not all, of the Special Award categories. There are a number of new awards this year and some changes to existing awards that may be of interest to your committee. Details of all the Special Awards are in your entry form or on www.TidyTowns.ie.
Finally, I would like to thank our main sponsor, SuperValu, the sponsors of all our Special Awards, our adjudicators and in particular all the volunteers who work tirelessly to ensure that their town or village is well represented in the competition. The SuperValu TidyTowns competition has a special place in the hearts of all our people and together we can make the next sixty years of the competition even better.
Best of luck to all the 2018 participants.
Go n-éirí an t-ádh libh!
Michael Ring T.D., Minister for Rural and Community Development