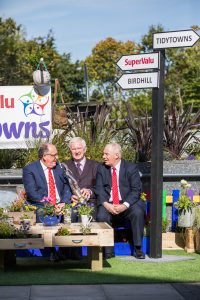 Assessment of participating towns is carried out by an independent panel of adjudicators appointed by the Department of Rural and Community Development and takes place during the months of June, July and August each year, on a date which is not specified. As a result, this assessment is conducted in secret.
Each entrant is assessed under eight criteria with a total of 470 marks available as follows :
Community-Your Planning & Involvement         60
Streetscape & Public Places                                  60
Green Spaces & Landscaping                                60
Nature & Biodiversity in your Locality                 50
Sustainability-Doing more with less                    50
Tidiness & Litter Control                                        90
Residential Streets & Housing Areas                   50
Approach Roads, Streets & Lanes                        50
These criteria are applied to the physical environment of the area having regard to materials furnished by the entrant, which can, among other things, include a map, plans and photographs etc.
Participants can specify sub-areas of special interest for adjudicators to look at, but full adjudication covers the whole area and approach roads. This is normally defined as within the welcome signs to an area or, where none exist, within the relevant low-speed limit signs. In more rural or urban areas, where boundaries may not be clear, the minimum adjudication area is approximately one kilometre in all directions from the centre of the area as local geography and adjoining areas permit.
As a result of this assessment a number of entrants are identified as potential candidates for winning the overall title and are subject to not less than one more detailed assessment. Decisions on winners are made by the full panel of adjudicators.
Once the winners have been announced in September, reports of all assessments are posted to each entrant and are made available on-line on this site. Therefore, should you wish to examine the results of any entrant since 1996, they are all available here.
TidyTowns Results Book 2021
Results book from the 2021 SuperValu TidyTowns Competition
Download PDF
→
TidyTowns Results Book 2019
Results book from the 2019 SuperValu TidyTowns Competition
Download PDF
→
TidyTowns Results Book 2018
Results book from the 2018 SuperValu TidyTowns Competition
Download PDF
→
TidyTowns Results Book 2017
Results book from the 2017 SuperValu TidyTowns Competition
Download PDF
→
TidyTowns Results Book 2016
Results book from the 2016 SuperValu TidyTowns Competition
Download PDF
→
TidyTowns Results Book 2015
Results book from the 2015 SuperValu TidyTowns Competition
Download PDF
→
TidyTowns Results Book 2014
Results book from the 2014 SuperValu TidyTowns Competition
Download PDF
→
TidyTowns Results Book 2013
Full results book for the 2013 SuperValu TidyTowns Competition
Download PDF
→
TidyTowns Results Book 2012
Full results book for the 2012 SuperValu TidyTowns Competition
Download PDF
→