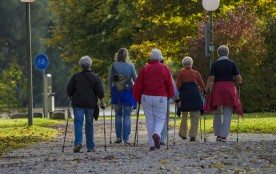 Sponsored by the Department of Communications, Climate Action and Environment
The Sustainable Development Award is about an inclusive community that respect all the elements that make up our community: biodiversity, social diversity and most of all, our own diversity.
This category encourages TidyTowns committees to create a new leisurely walk for people in the community.
The goal for this project is to create a place where people can meet friends, get some light exercise and not have any demands placed on them. The only equipment required should be comfortable shoes.
The idea is to encourage people to become more active by taking some light exercise.
There is a €5,000 prize fund available for this award.
The walk should be at least 300 metres long, with items of interest along the route and a seating area at about 150 metre intervals. The short route and seating areas should allow people of all ages and physical fitness to participate. The more energetic can do laps.
Click 'Download Document' to see this year's entry form.
Photo Source: Pixabay
Download Document:
2017 Sustainable Development Award Entry Form