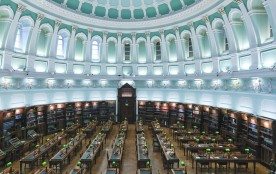 The National Library of Ireland (NLI) on Kildare Street in Dublin is a public non-lending library, home to the scripts of many famous Irish writers and poets such as Roddy Doyle, Seamus Heaney and James Joyce.
The NLI hosts many events, including public lectures and tours, poetry and music recitals, theatre, children's storytelling along with creative workshops.
Here is a selection of events that the NLI is hosting during the month of April:
Yeats: The life and works of William Butler Yeats (6th April) 2pm
This free tour introduces William Butler Yeats (1865-1939) – one of the great poets of the twentieth century – and his many interests, including literature, folklore, theatre, politics, the occult, and Irish cultural identity. After the tour, you can listen to a selection of voices speaking some of his best loved poems, including Easter 1916. No advance booking is required for this tour.
The National Library's History & Heritage: A Guided Tour (8th April) 1pm
This free tour will explore the famous architectural history and heritage of the National Library. The tour begins in the main hall of the Library and includes a visit to the Library's iconic reading room (pictured here) . No advance booking is required for this tour.
World War Ireland: Exploring the Irish Experience (13th April) 2pm
Join this free tour of the NLI exhibition called: World War Ireland: Exploring the Irish Experience at 2/3 Kildare Street. Find out about the Irish experience 'over there' and on the home front during WWI through collections of letters, diaries, recruiting posters, newspaper reports, cartoons, and leaflets. No advance booking is required for this tour.
For more information on these free events in April, please visit the NLI website at www.nli.ie or join the NLI's mailing list by emailing mailinglist@nli.ie
Story and Photograph Source: National Library of Ireland