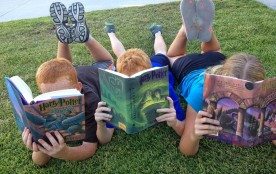 World Book Day celebrates its 20th anniversary in Ireland on Thursday, March 2nd!
World Book Day has become firmly established as Ireland's biggest annual event promoting the enjoyment of books and reading. The main aim is to encourage children to explore the pleasure of books and reading by providing them with an opportunity to own a book of their own.
Each year, €1.50 book tokens are sent out to nurseries, primary schools and secondary schools which to date has resulted in over 10 million discounted books being sold in Ireland. With these tokens, the child can use them to buy one of the eleven exclusive new books or to use it to get money off another full price book.
World Book Day gives children the chance to choose a book for themselves, as currently three out of ten children in Ireland don't own their own book.
Some of the new books included in the 'World Book Day' series include beloved characters, such as  Peppa Pig, Horrid Henry and Where's Wally with work from some well-known writers including comedian David Walliams and the official World Book Day 2017 illustrator, Liz Pichon.
For more information on World Book Day 2017 and to see the full list of books and writers, please visit http://www.worldbookday.com/world-book-day-ireland/
Story Source: World Book Day Ireland
Photo Source: Pixabay