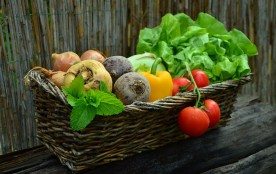 The Community Food Initiatives Programme, which is run by safefood, aims to improve the eating habits of young families in low income households by making healthy food more accessible.
Safefood is the public body responsible for raising consumer awareness regarding issues relating to healthy eating and food safety in Ireland.
Along with improving the individuals perceptions around healthy eating, safefood also aim to promote healthy shopping, improved meal planning as well as improving and enhancing individual cooking skills.
Over a three year period, each Community Food initiative will receive annual funding to set up, manage and sustain their project. So far, 17 projects in Ireland have already received funding since this three year initiative started in 2010.
The full list of 2010-2016 Community Food Initiatives is as follows:
•    Carlow County Development Partnership, Co. Carlow
•    Inishowen Development Partnership, Co. Donegal
•    South Lough Neagh Regeneration Association, Dungannon, Co. Tyrone
•    Ballyhoura Development, Kilfinane, Co. Limerick
•    South Tipperary Development, Cahir, Co. Tipperary
•    NI Environment Link, Belfast, Co. Antrim
•    Co. Wicklow Partnership/ Southside Partnership DLR, Arklow, Co. Wicklow
•    South West Mayo Development Company, Newport, Co. Mayo
•    SPACE, Newry, Co. Down
•    Avondhu Blackwater Partnership, Castletownroche, Co. Cork
•    Laois Community and Enterprise Development Company, Portlaoise, Co. Laois
•    The Resurgam Trust, Lisburn, Co. Antrim
•    Monaghan Integrated Development, Castleblayney, Co. Monaghan
For more information and to see the full list of projects, please visit
http://www.safefood.eu/Professional/Nutrition/Food-Poverty/Demonstration
Story Source:safefood
Photo Source: Pixabay