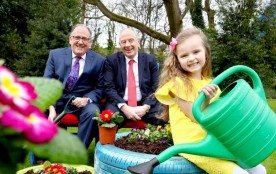 The 2017 SuperValu TidyTowns competition is now open for entries until Thursday, May 25th!
To go straight to the entry form, click 'Entry Forms 2017'. 
In its 59th year, the competition is administered by the Department of Arts, Heritage, Regional, Rural and Gaeltacht Affairs and is sponsored by SuperValu. Through its history the competition has encouraged voluntary activity and community participation across the country.  It has helped to make our villages, towns and cities better and more attractive places to live, work and do business in.
In reference to the competition, Minister for Regional Economic Development, Michael Ring, T.D. said "The SuperValu TidyTowns Competition is built on the voluntary effort of ordinary people across Ireland.  Its success is a result of that selfless effort. It is a competition which helps to bring neighbours, with shared values and shared interests, together to improve their surroundings. Almost all members in a community can contribute to the SuperValu TidyTowns competition, regardless of age, ability or interests. Participating in the competition raises environmental awareness; it encourages communities to look at how they live, how they use resources and to try to create a circular economy which produces little or no waste.  We all have a responsibility to consider the effect of how we live affects others."
Minister Ring also mentioned the significance of the voluntary effort which drives the competition. "Generations of volunteers on TidyTowns committees have been improving the environment in which we live for 59 years and have helped to transform the appearance of our towns and villages and to promote Ireland's image abroad.  The common thread among TidyTowns volunteers is a pride in their own place; they want to make it the best it can be.  They want to effect positive change not just for today, but for future generations. I encourage committees to continue to recruit new volunteers, www.volunteer.ie, the website of Volunteer Ireland helps to match members of the public interested in volunteering with voluntary opportunities in their local area. TidyTowns committees should take advantage of this initiative to seek out new volunteers or voluntary expertise. Ireland has a proud tradition of volunteering so it is fantastic that Sligo has been named as the European Volunteering Capital for 2017. I know they will play a big role in recognising current volunteers and raising awareness of volunteering opportunities."
Speaking at the launch, Martin Kelleher, Managing Director, SuperValu said: "Now in its 26th year, SuperValu TidyTowns is one of the longest running sponsorships in Ireland and one that we are extremely proud to be associated with. SuperValu TidyTowns celebrates the efforts of communities the length and breadth of Ireland, who, year after year, work tirelessly in an effort to enhance their towns and villages. As the competition continues to grow, SuperValu is looking forward to continuing its support, having recently been confirmed as sponsor of the competition for the next five years."
"As Ireland's leading retailer, with locally-owned SuperValu stores in every county in the country, our retailers are embedded in their local communities and through the SuperValu TidyTowns competition, they bring the SuperValu ethos of building vibrant local communities to life on a daily basis – just one of many community initiatives which allows them to give back and support local."
"This year we are excited to add another dimension to the SuperValu TidyTowns competition with an upcycling photo challenge which is encouraging TidyTowns committee members to integrate upcycled materials into their beautiful communities, with their efforts supported by local SuperValu retailers around the country."
The Minister expressed his appreciation to SuperValu for their continued support in sponsoring the competition. "Following a competitive process in 2016 I am delighted that SuperValu have been confirmed as sponsors of the competition for the next 5 years.  This builds on 25 years of association between SuperValu and the competition.  They have helped to grow the competition through their sponsorship and by getting involved locally through their nationwide network of retailers.  Officials in my Department of Arts, Heritage, Regional, Rural and Gaeltacht Affairs, who administer the competition, look forward to continuing this synergistic relationship.  I thank SuperValu for all for their continuing efforts to maintain the success of this competition."
In addition to the main competition there are thirteen Special Awards that can be entered. Welcoming these awards Minister Ring said "I also thank the sponsors of these awards for their support over the years.  A number of the sponsors have been loyal to TidyTowns for some years now and the appetite for the awards is still as strong as ever. These awards add to the SuperValu TidyTowns competition and I would like to encourage entrants to consider entering some of them as well as the main competition."
This year, towns and villages across Ireland are being asked to further grow the SuperValu TidyTowns green culture through a new competition – the Upcycling Challenge. TidyTowns committees will be invited to use their creative skills to upcycle and recycle items such as palettes, old tyres and old furniture into useful and beautiful community creations. Local SuperValu retailers will provide committees with materials to support their efforts, and there will also be a series of "How to upcycle" videos available online, with plenty of prizes for the winners.
The closing date for receipt of entries for this year's competitions is Thursday, 25th May 2017.
Entry forms to the SuperValu TidyTowns competition can be obtained from the TidyTowns Unit in the Department of Arts, Heritage, Regional, Rural and Gaeltacht Affairs by telephoning (096) 24309 or by clicking 'Entry Form 2017'. For entry to the Special Competitions, please click 'Special Awards 2017.'
Pictured: The TidyTowns Group from Skerries in Co. Dublin, winners of Ireland's Tidiest Town for 2016. 
Download Document:
2017 Irish Language Entry Form